Attractions - Kamari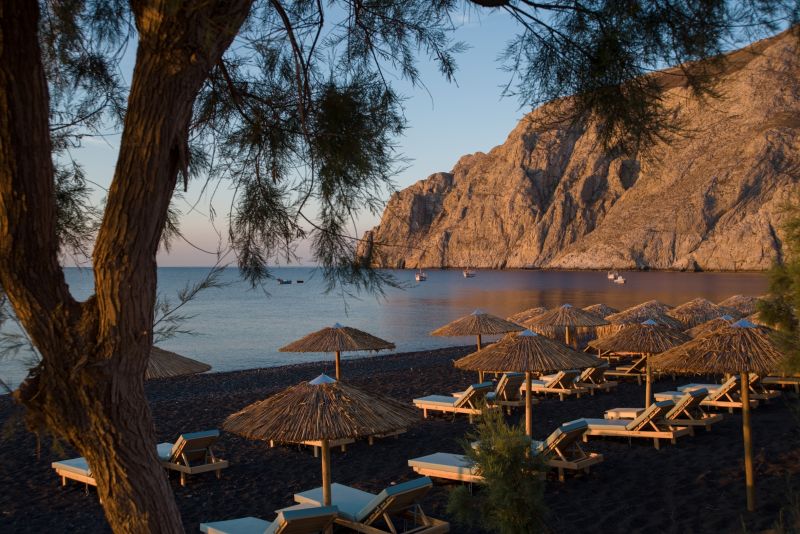 A cosmopolitan beach resort on the south east of Santorini.
---
The cosmopolitan Kamari is 10km away from Fira. It is a continuously developing seaside resort that attracts the preferences of those who want to spend their vacations by the sea and not by the Caldera side.
It was after the earthquake of 1956 that the inhabitants of Mesa Gonia me\oved here. Today is one of the most lively spots of the island. The incredible volcanic pebble beach has been awarded with 2 blue flags. Kamari is an ideal destination for all day long, since here you can find and do everything you want during your suumer vacation.
It is worth mentioning that Kamari is of the great historical importance, as in Mesa Vouno, the ruins of the Ancient Thira were discovered – a city that was the only urban centre of the island until the expansion of Christianity. One of the two ports of Ancient Thira used to be where Kamari lies today and was named Oia. Today, its ruins are lying at the sea bottom, in Kamara. From the arch - the once Customs - the most daring ones will find a good place for diving.
On the way up to Mesa Vouno, you can meet a cave with the curch of Zoodochos Pigi, and a spring of fresh water. If you walk up from St. Nicholas's church, you will see the ascetic residences, natural caves found inside the rock or small buildings that ascetics used in order to retire since the late 17th century.
Hotels, travel agencies, cafeterias, beach bars, vivid night life and numerous of choices for food make up the image of Kamari. At night, when the red full moon is rising from the dark waters, a walk in the coastal pedestrian precinct is a perfect idea. If you want something different, however, the open-air cinema will offer you an alternative way of entertainment and of course a beautiful atmosphere. But if you prefer to go shopping, a walk in the market will persuade you!
Kamari is all these and much more...